DEVELOP AT ATI

The ATI Academy is ATI's Learning and Development division, centered around a holistic approach that encompasses clinical development along with leadership and professional growth. This includes Pathways Programs that ensure growth and preparation to take on what's next in your career.
ATI Onboarding and Mentorship
First50 Onboarding

- ATI's Onboarding program is a comprehensive 8-week initiative tailored to help clinicians smoothly integrate into our organization. This program is carefully structured to ensure that our clinicians not only become comfortable with all aspects of working at ATI but also progressively build their patient load. The key components of our onboarding program: ATI's benefits, ATI's Academy and the Developmental Difference, ATI's History and Culture, Personal Goal Setting, Time Management, and Professional Networking.



Mentorship

- ATI takes pride in offering a robust Mentorship Program designed to provide valuable guidance and support to our clinicians. Over the course of the four months, you will engage in a total of eight one-on-one sessions with your mentor. These sessions provide a dedicated space for personalized guidance, knowledge sharing, and professional development. You will be paired with an experienced clinician who is not part of your immediate clinic team. This allows for a fresh perspective and a supportive environment for candid discussions.
Residency and Fellowship Programs
ATI is proud to offer credentialed residencies in both Orthopedics and Sports as well as an Upper Extremity Athlete Fellowship for the clinician who desires an immersive educational experience.
We have multiple locations for each residency program. Orthopedic locations include Boston, MA, Greenville, SC, Seattle, WA, and the Washington D.C. Area. Sports locations include Baltimore, MD, Birmingham, AL, Charleston, SC, Chicago, IL, Greenville, SC, and Phoenix, AZ.
Cohorts run August through the following September with application windows in the fall of the preceding year through RF-PTCAS. Residents dedicate 32 hours per week to patient care while receiving a full salary for their residency education. This educational component comprises 4 hours of one-on-one mentorship, 4 hours of didactic education, and 3-4 hours of specialized practice observation with our partners at Steadman Hawkins Clinic of the Carolinas, Andrews Sports Medicine, and a variety of high school, collegiate, and professional sports teams/athletes.
The Upper Extremity Athlete Fellowship program is located in Greenville, SC with partnerships with Kansas City Royals™, Colorado Rockies™, and Chicago Cubs™.
Graduates of these programs include some of ATI's very best across the country; Alumni serving in professional baseball, football, soccer, and tennis; and professors and researchers at DPT programs.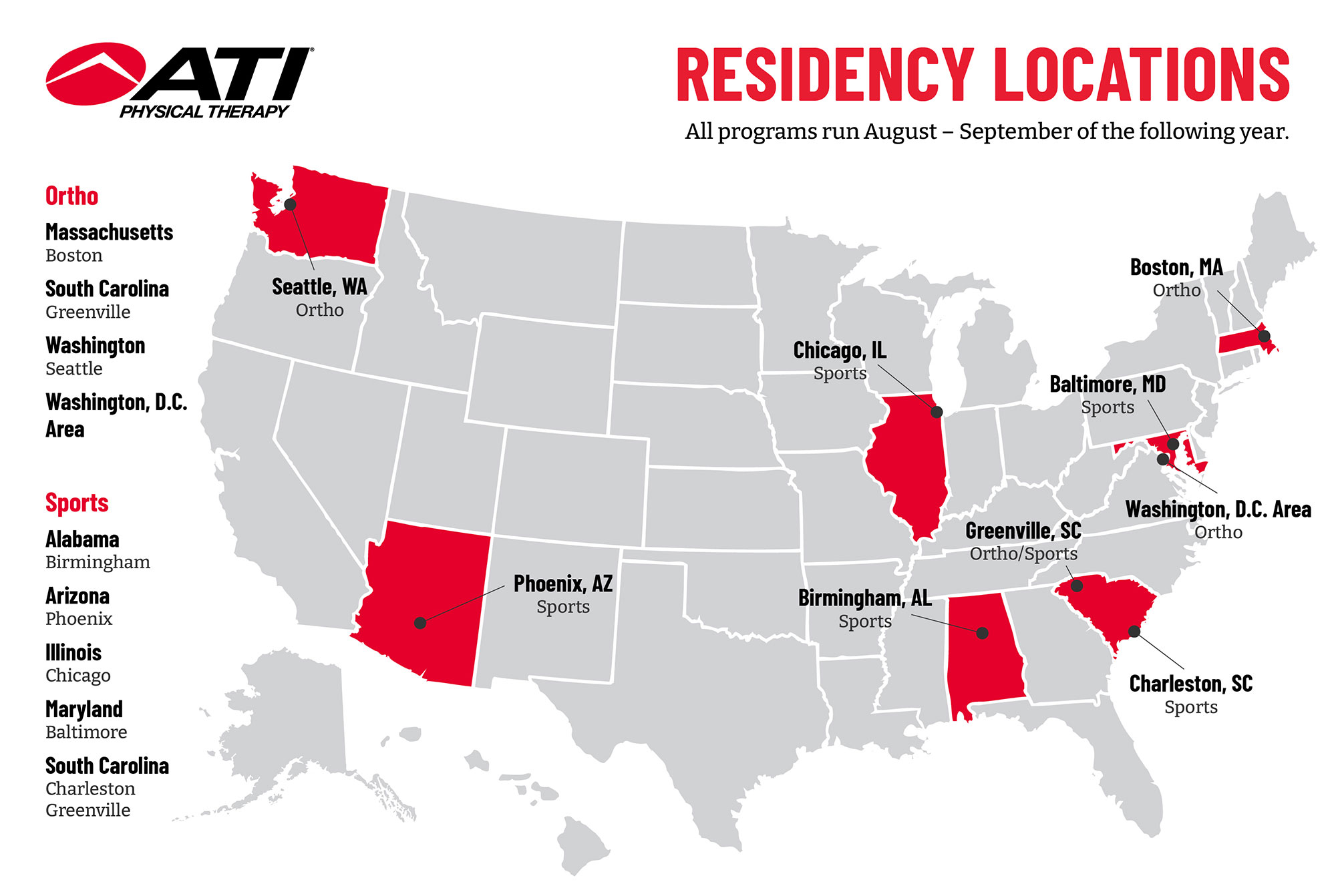 For More Information
Sports Residency and Orthopedic Residency: Jackie Davenport, PT, DPT, OCS jacqueline.Davenport@atipt.com
Upper Extremity Athlete Fellowship: Brad Eggebraaten, PT, BSPT, ATC, SCS bradley.eggebraaten@atipt.com
Per ABPTRFE Guidelines, please see the following financial fact sheets regarding our programs:
Sports Residency
Orthopedic Residency
Residency and Fellowship
Program Outcomes:
| | Graduation Rate | Number of Graduates who Have Sat for ABPTS Board Certification Exam | First Time Specialty Pass Rate |
| --- | --- | --- | --- |
| Sports Residency | 95% | 100% | 95% |
| Orthopedic Residency | 96% | 96% | 98% |
| Upper Extremity Fellowship | 100% | N/A | N/A |